You are invited to a special panel discussion on "Growing Your English Ministries".
Date: Sunday, July 19 from 3 to 5 pm

Location: Lord's Grace Christian Church, 1101 San Antonio Rd. Mountain View, CA 94043.
We have invited Pastor Joey Chen from Sunset Church in San Francisco and Pastor Steve Quen from Bay Area Chinese Bible Church in Alameda to speak on these topics: building a church for the millennials; bringing college grades back to the mother church; reviving the children ministry; making youth ministry relevant; building young church leaders, etc.
Effective ministry to the English-speaking members is most significant for the future of Chinese churches in North America. Searching for effective strategies and adoption of innovative paradigms is a never-ending struggle. We are grateful to Pastor Joey and Pastor Steve for their willingness to share their experience and insight with us.
Dr. Bill Tam will be the facilitator of the panel discussion. You are encouraged to dialogue with Pastor Joey and Pastor Steve during the Q & A session. We will also reserve time at the end for prayer.
Please make all effort to come and take part in such an important dialogue with fellow pastors in the Bay Area. (Please see the poster here.)
Winners of RTGPM Essay Contest have been selected. Below are theire articles:
Book: America, Return to God (Second Edition)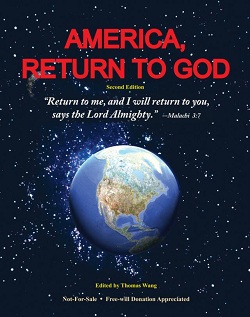 "Return to me, and I will return to you, says the Lord Almighty." – Malachi 3:7
Edited by Thomas Wang

CONTENT
- Preface
- Introduction
- The Neo-Pagan Drift
- 12 PrincipIes that Are Leading our Country to Ruin
- Banning Prayer in Public Schools Has Led to America's Demise