Home

Literature

Preface of America Return to God
Preface
For Book: America, Return to God (Second Edition)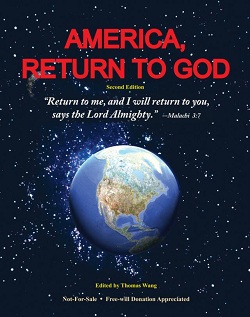 By Bill Gothard

Throughout history God has longed for a nation that He could use as a model for all other nations. The blueprint for such a nation is revealed in God's commandments that He first gave to Israel, then clarified through the commands of Christ.
There is an air of excitement as God speaks of these commands, "Keep therefore and do them; for this is your wisdom and your understanding in the sight of the nations, which shall hear all these statutes, and say, Surely this great nation is a wise and understanding people." (Deuteronomy 4:6).
I commend Dr. Thomas Wang and his whole team for the genuine love they have for America as expressed in this second edition of America, Return to God. Since the first edition, God has given compelling new motivations to return to Him. He has allowed many people to lose what they trusted in for security, forcing individuals back to the phrase that is written on our currency, "In God We Trust."
I love the statement "God is all you need, but you don't know it till He is all you have." This book confronts all of us with the urgent need to return to God's way of life. However, the church must first return to the power of the Gospel.
This power is explained in the commands of Christ that define the love we must live out before the world. May God give you special wisdom, understanding, and courage as you read this book and apply its truths to your life.
Bill Gothard
Founder
Institute in Basic Life Principles
(For a free series of daily e-mails from Bill Gothard please register at www.dailysuccess.org)
Home

Literature

Preface of America Return to God